Time tracking is done separately for each task. You choose a task you are working on and switch on the time tracking. The tracking status is displayed in the system tray:
- time tracking stopped:

- time tracking running:

Put your mouse cursor over the icon to see the pop-up statistics: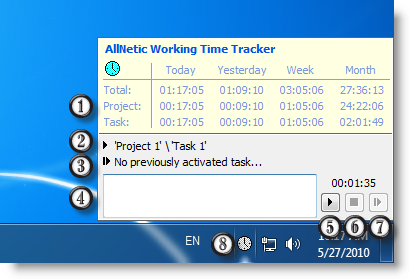 Advanced pop-up statistics.
1. Stats
2. Task selected in the main window
3. Previous selected task
4. Edit line for the period description
5. Start button for time tracking of the task selected in the main window
6. Stop button
7. Continue last task button
8. AllNetic Working Time Tracker icon
See also: